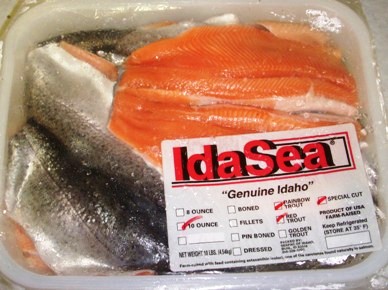 download qr code
Trout Ruby Red Tail on
Product #: 11016
Scientific Name: Oncorhynchus mykiss
Country of Origin: Colombia
$6.96 /LB
(minimum: 1 LB)
Catch Info:
View details of SeafoodWatch Catch Methods
Description:
Bright red, rich in flavor, and a real eye catcher. Try it lightly fried with some greens - delicious!
Idaho produces 75% of the farmed trout in the U.S., distantly followed by North Carolina (7%).
This rainbow trout is farmed in Idaho, where trout are raised in water from naturally occurring springs. The production systems used, raceways, are rectangular tanks with water flowing through them to mimic a stream. Escapes from such a system are unlikely and wastewater is treated and tested before being released. Trout are carnivorous and do require some protein in their diet though it is generally derived from a combination of fishmeal and agricultural proteins, reducing the requirement for wild harvested fish to feed farmed fish.
External Links:
This item has been added to your cart