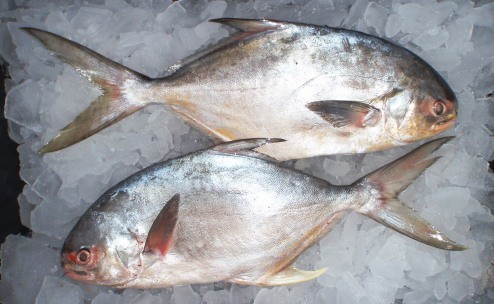 download qr code
Pompano Whole 1-2 Lbs
Product #: 11075W12
Scientific Name: trachinotus carolinus
Country of Origin: United States
Product Currently Unavailable
Contact us for More Information
Catch Info:
View details of SeafoodWatch Catch Methods
Description:
Pompano has a firm texture with a sweet and mild flavor. It has attractive silver skin that is edible and does not need to be scaled.
Pompano is found throughout the Atlantic Ocean, Caribbean Sea, and Gulf of Mexico, but in the U.S. is most frequently caught off the coast of Florida.
The Florida pompano populations are healthy after being overfished in the early 2000s, but fishing pressure is too still high off the Atlantic coast. Pompano are caught primarily by nets (gillnets, seines and cast nets) with some harvest by hook and line. These gears are minimally invasive and should have little impact on ocean habitats. The only gear that is likely to have significant amounts of bycatch is the gill net, because the nets are left to float in the water unattended for a period of time and entangle a variety of species. Gillnets are prohibited in Florida state waters but are still used in federal waters in the Gulf of Mexico.
External Links:
This item has been added to your cart