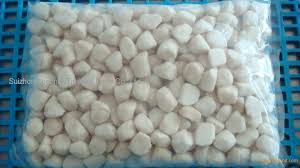 download qr code
Scallops 40/60 Laughing Bird Frozen
Product #: 66021
Scientific Name: Argopecten purpuratus
Country of Origin: Peru
Product Currently Unavailable
Contact us for More Information
Catch Info:
View details of SeafoodWatch Catch Methods
Description:
The CleanFish approved Peruvian calico scallops are nourished by the plankton rich waters of Peru in an off-bottom culture system. They develop a clean, unparalleled taste and have no grit. These petite gems pack a flavor explosion far beyond their size. They are ideally suited for sushi and ceviche preparations that highlight their natural sweetness.
The Peruvian calico scallop is native to the Pacific coast of South America from Peru to Chile.
These native scallops are raised in a Peruvian bay using the old Japanese culture method of lantern shaped cages suspended in ocean. The scallop farmers set out lantern cages and allow the native juvenile scallops to settle and colonize. The scallops are then transferred to grow out cages in the bay. As with other mollusks, no supplemental food sources are needed (scallops filter plankton out of the surrounding water) and their waste products should have a negligible impact on the surrounding ecosystem. No chemicals are used. After 12 months the cages are lifted out of the water and the scallops are hand harvested. In addition, this farm operates their boats using alternative fuels and converts their farm waste into agricultural fertilizer.
External Links:
This item has been added to your cart