Lower ordering minimum, reduced to $40. Same great fish!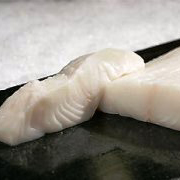 download qr code
Chilean Sea Bass Fillet Skin Off
Product #: 11250F
Scientific Name: Dissostichus eleginoides
Country of Origin: Falkland Islands
$22.99 /LB
(minimum: 1 LB)
Catch Info:
View details of SeafoodWatch Catch Methods
Description:
A deep water delicacy - very high oil content - this fish cooks up beautifully for large functions
Sea Bass is considered an oily fish that hold up to many cooking methods without losing any of it's unique characteristics.
External Links:
This item has been added to your cart