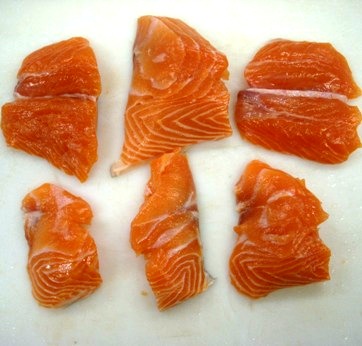 download qr code
Salmon Pieces
Product #: 17000
Scientific Name: Salmo salar
Country of Origin: Chile
$4.57 /LB
(minimum: 1 LB)
Catch Info:
View details of SeafoodWatch Catch Methods
Description:
These are an assortment of scraps which Profish will produce during the processing of large portion orders. A bargain if you can use the irregular shapes and thicknesses. They are bagged loose.
NO GUARANTEES ON AVAILABILITY EACH NIGHT . tHIS IS A BI-PRODUCT OF PORTION CUTTING AND DEPENDS UPON NIGHTLY PRODUCTION. YOU MIGHT WANT TO PLACE A BACKUP IN THE NOTES SECTION.
External Links:
This item has been added to your cart